Pocketfolds 101: Anatomy of an Invitation
What goes into an invitation?  Let's start by taking a look at the pieces of an Envelopments® Pocketfold invitation, our most popular style.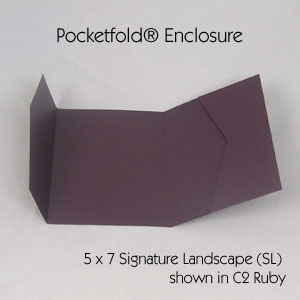 The outer piece, called a Pocketfold® enclosure, is the base for your invitation.  This can be any color from our full line of cardstocks: Mattes, Metallics, Texutured Metallics, and Patterned Cardstocks  – 247 colors in all!!! – to correspond to your chosen color scheme, whether you're tying in your wedding colors or just choosing a color combination that you love. Pocketfold enclosures are available in several different styles and sizes.  See the full line of sizes and styles here.
Invitation Interior
On the inside of the enclosure, you can incorporate additional colors, patterns, and textures using backing layers to frame your invitation.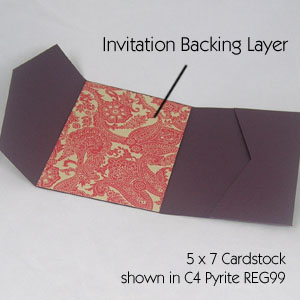 The printed invitation can be printed on most of our cardstocks, and is often placed on one or more backings. You decide how much of each backing you want to show by how large you make the next layer.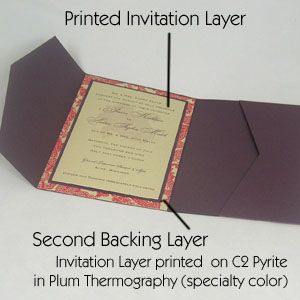 In the example above, the patterned backing layer has a larger area showing – about 3/8″ all around, and the smaller second backing layer has just 1/8″ border to really "pop" the invitation layer.
Enclosures
Inside the pocket of the enclosure, you can include information for your guests, such as maps & directions, accommodations, reception, and response cards.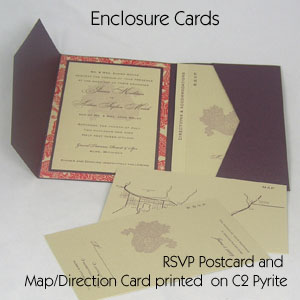 RSVP cards can be either a postcard with your return address printed directly on the card (4.25 x 7″, shown above), or can be a card with envelope (3.5 x 5″, shown below).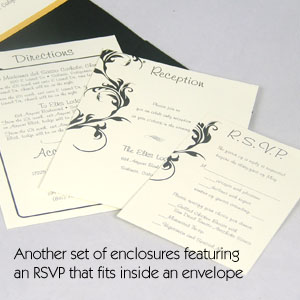 Depending on your particular wedding you might also include your wedding website, rehearsal dinner information, weekend itinerary, about the area/travel/tourist information (especially for destination weddings), or whatever special information you need to provide your guests so they can more fully enjoy your wedding – maybe even a photograph. We'll discuss enclosure cards more in-depth in future articles.
Here's another view of enclosure cards "stacked" in a PORTRAIT 5 x 7 Pocketfold enclosure: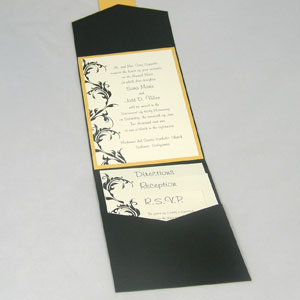 In each example, the cards are sized from larger to smaller so each card is viewed in the pocket.  If you're designing your own invitation, you want to be sure to calculate what size each card should be to give you the look you want. If we're designing it for you, we'll take care of the math. We have many "recipes" on our website to help you determine what sizes to make your enclosures.  (You can also call us if you need help.)
Finishing Touches
You've taken care of every detail on the inside. Now make sure to wow your guests with the front. There are so many options you can choose.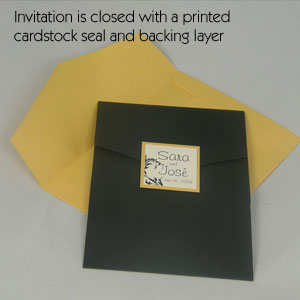 Many couples opt for a seal or tag (see above) that can have your monogram, names, a motif, or could be left blank for you to hand-write the names of each guest.  These seals are made from the same cardstock and layers as used on the inside to provide a consistent look.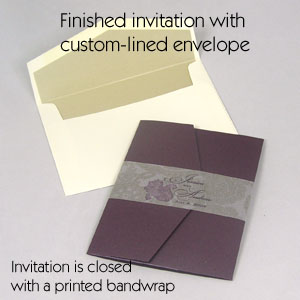 Instead, you might choose to close your pocketfold with a bandwrap (either printed with your name as in the example above, or left blank). Ribbon, feathers, rhinestone appliques, or other decorations can also be used.
Here are close-up shots of the seal and bandwrap: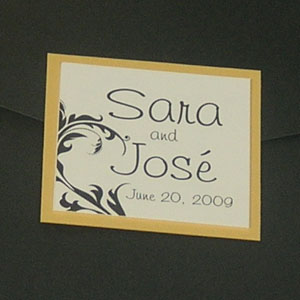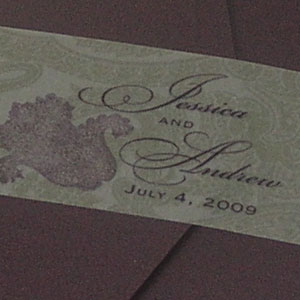 Don't forget the envelopes – you can choose from a variety of colors and further customize to match your color scheme with an envelope liner.
Need more ideas?  Visit our Invitation Inspirations Gallery for lots of recipes, photos, and more.  No matter what your budget, style, technical capabilities, or skill-level, you can create beautiful invitations that will give the perfect first impression for your once-in-a-lifetime event.
Good luck with your project!