All About Postage – Part II: Custom Stamps
Since our last post, we've had a lot of questions on doing custom stamps to complement your wedding ensemble. These are so easy, and not much more expensive than regular postage stamps!  The two online services we have used and like the best are PhotoStamps and Zazzle (you can also go to our new Zazzle store to see more examples).
You can make stamps with a custom monogram, motif, your photo, or just about anything. And don't forget to match postage for your RSVP cards and thank you notes.  There are also lots of beautiful pre-designed stamps to choose from on either PhotoStamps or Zazzle if you don't like the standard USPS offerings. What a great way to introduce your beautiful event, and add that one more personal touch to your invitations.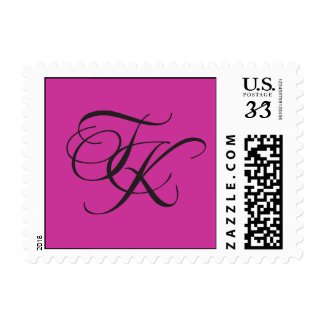 custom-monogram2 by envelopme
More Monogram Postage
Remember, if we're designing or printing your invitations for you, just ask and we'll be happy to design a matching custom stamp for you at no extra charge. We can upload it for you so you can order directly from Zazzle, or we can order it for you.  Both  PhotoStamps and Zazzle offer stamps in sheets of 20 at various denominations for your invitations, RSVP and thank you correspondence. Prices for stamps from each company are listed on their websites. If you're designing on your own stamps, both websites are super-easy to use – and if you're not a designer, you can easily design it right on line!
TIP: Be sure to take a sample of your completed invitation to the post office before you order stamps to make sure you order the right stamps to mail your invitations! (See Part I of "all about postage" below for more info about mailing your invitations.)