Jessica & Babi's Silhouette Pocket Fold Wedding Invitations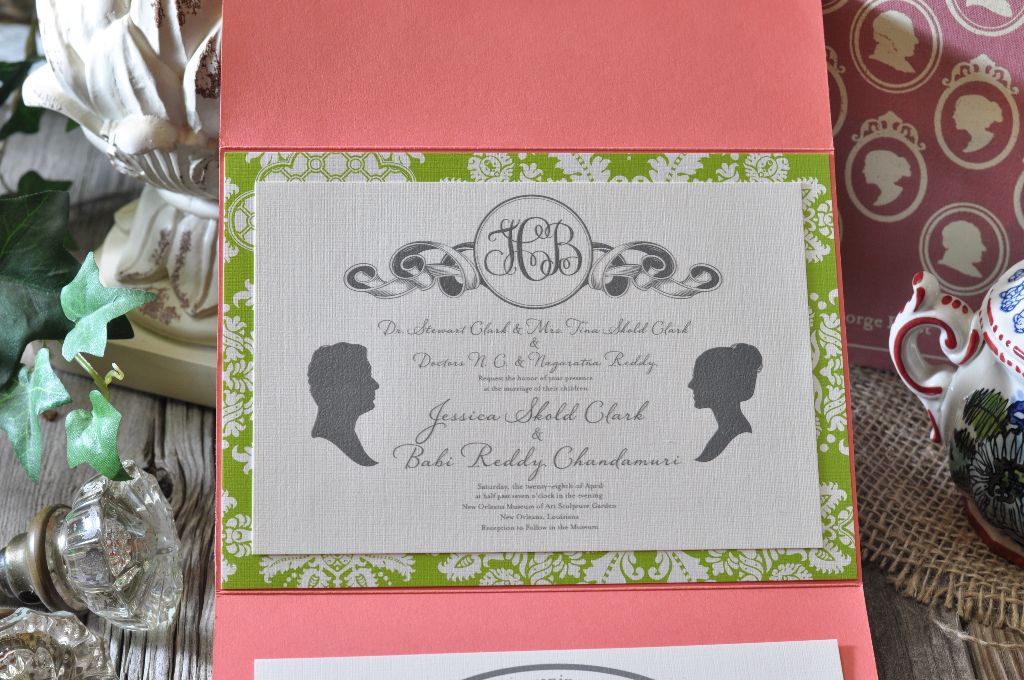 We were thrilled when Jessica & Babi asked us to help out with printing this lovely invitation, designed by a friend, for their upcoming wedding. The elegant scrolls in the monogram, as well as the custom silhouettes of the couple, were perfect for the thermography printing in slate ink.  The cards were printed on Ecru Linen cardstock, which has a subtle linen texture, and is just barely off-white.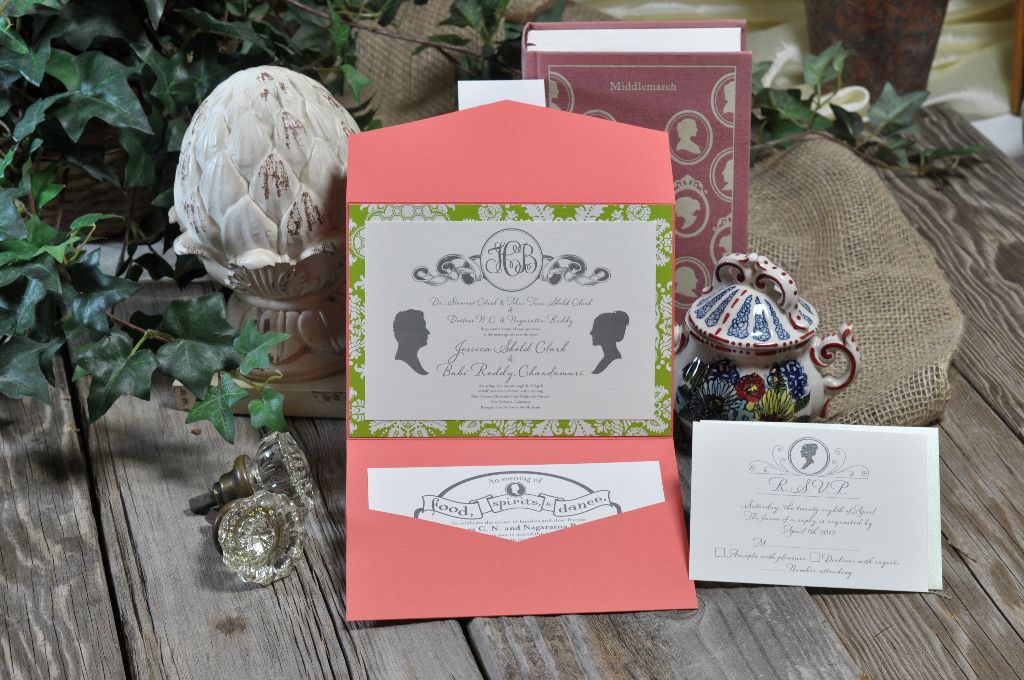 In the pocket of the landscape pocket fold, an information card + rsvp set provided guests with everything they needed to know for a fantastic evening.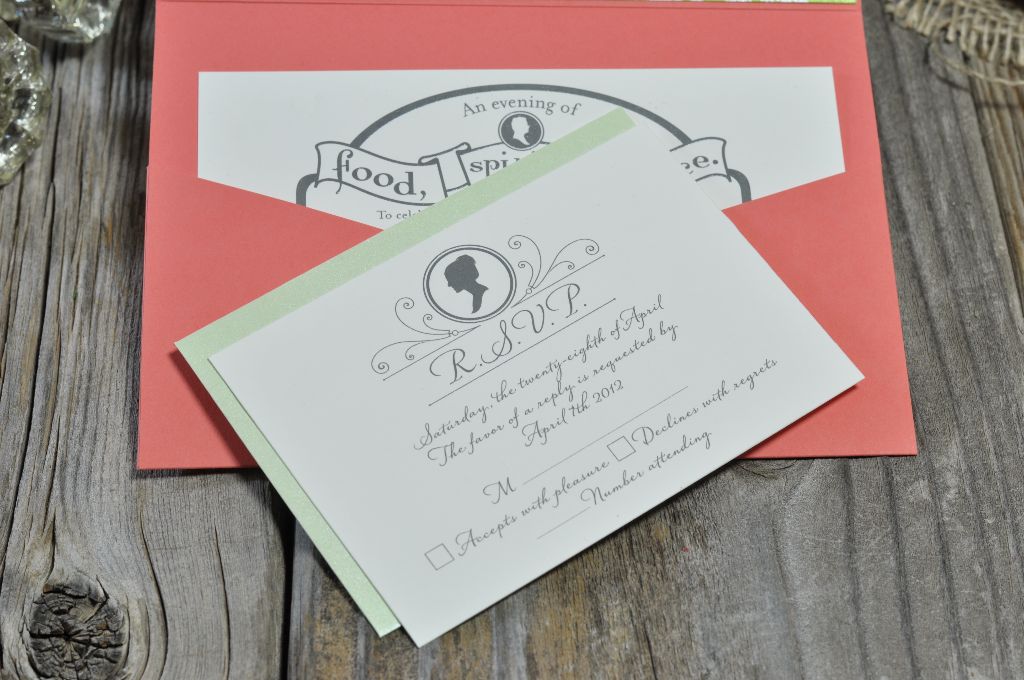 The invitation is mounted on a patterned backing inside the pocket fold to bring in the green accent color, and a green RSVP envelope is also included.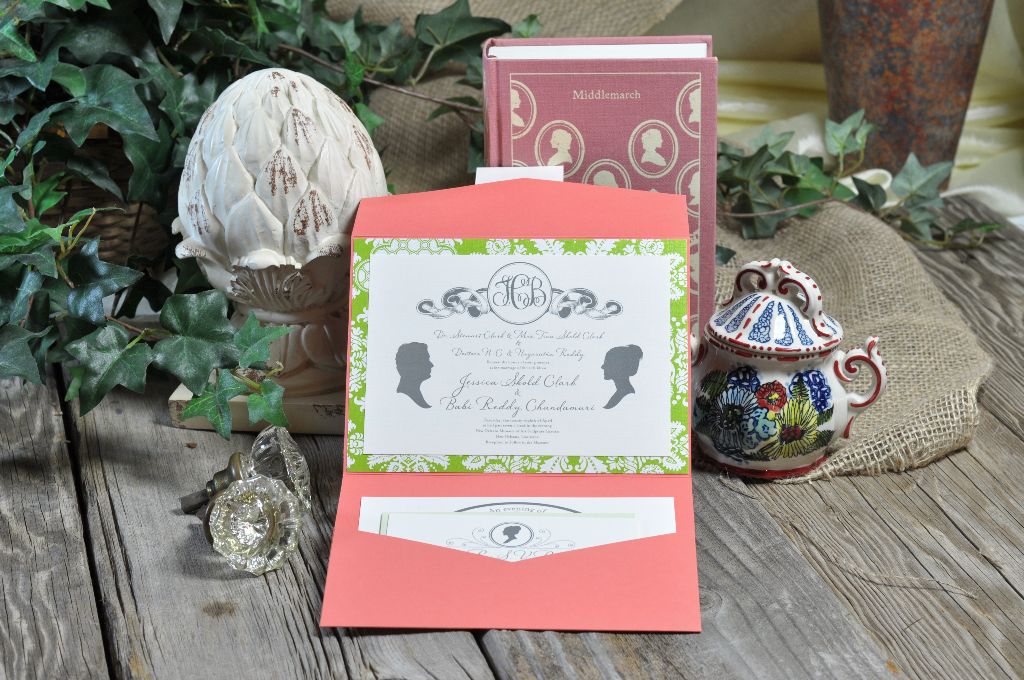 The invitation is mounted in a 5 x 7 Signature Landscape Pocket Fold (Persimmon), with a green patterned cardstock backing (cut to 5.125 x 7.125), and then the printed invitation is 4.5 x 7.5.  In the pocket, the cards are sized as 4 x 6, and 3.5 x 5 (plus a 3.5 x 5 envelope in Wintergreen)  Don't forget the envelope… although not pictured, we'd recommend a Classic Ecru envelope (E1 pricepoint) to coordinate with this set.
You can order flat printing for the printed cards for your custom invitation suite here, with either your own design files or we can design for you. Or for thermography, request a custom quote, and we'll be happy to assist you as well. We even offer assembly services & envelope addressing, if you want us to handle that part.
Or you can print your cards on your own, and just order the blank invitation items to create your own ensemble.
Thanks, Jessica & Babi, for letting us help with your lovely invitations.
And, let us know how we can help YOU create gorgeous invitations for your next event. However we can assist, we're here to help!