Can you believe it's almost April? Spring is upon us, and before it gets much further, we want to share some of the top trends in wedding invitations for 2013 with you. In no particular order, we'll start off with an invitation that not only features some fantastic detail, but also features our own TAYVA! (She is nearing her one-year anniversary, and will be doing an article to share more about her wedding soon…)
But for now, here's a look at one of the top trends of 2013: adding Glitz & Bling – Lace, Ribbons, Buckles, Rhinestones is a hot way to make your invitation stand out and be remembered.  It's all in the details.  First, here's the overall presentation of this simple but sophisticated gray and pink invitation: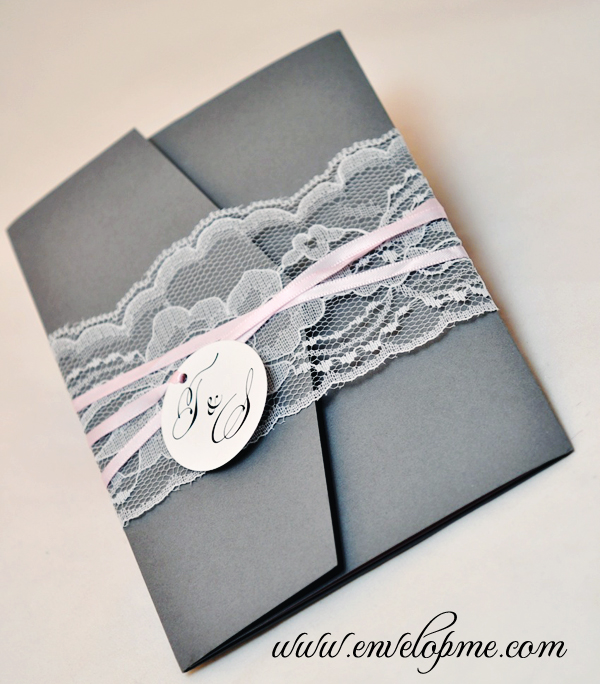 The front – a 5 x 7 Envelopments® signature Z-Card in River Rock – is wrapped in wide lace.  And take an up-close look at the detail: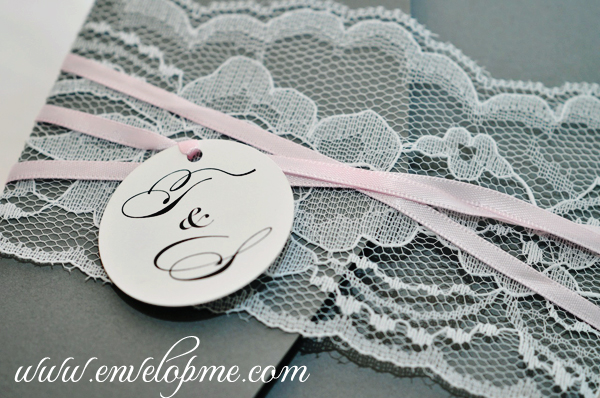 A slim pink satin ribbon wraps around the lace to hold a printed monogram circle die-cut tag – a simple touch that adds so much!
And now, here's a look inside: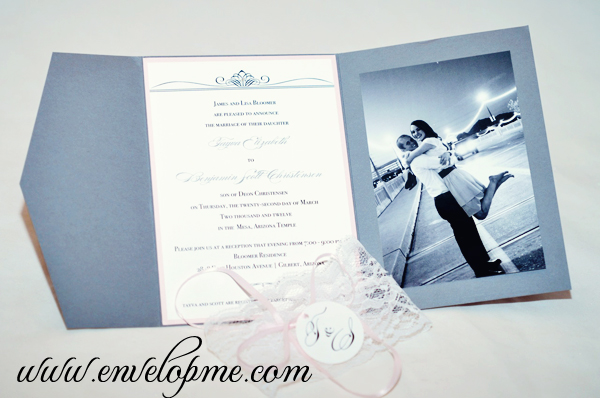 The elegance of the invitation is balanced with the playfulness of the black & white photo, and again the details come into play… the slim pink border, the couple's names in Silver ink, off-set from the black ink used for the rest of the text, and the sleek flourish at the top, with just a little bling, of course!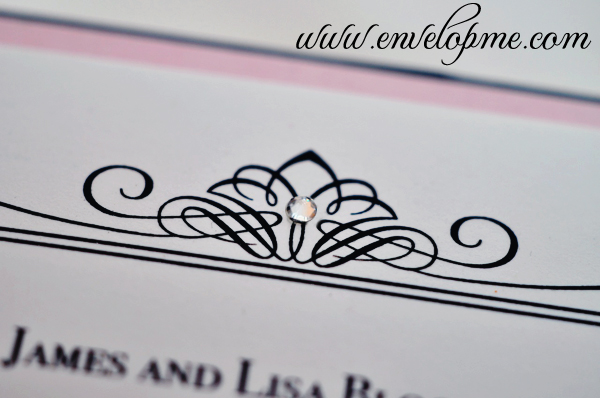 If you want us to replicate this look for you, just ask! And if you want to do it yourself, here are links to the items you'll need:
5 x 7 Signature Z-Fold [we used C1 River Rock, but you can choose from other options here]
5.125 x 7.125 Backing Layer [we used Blush, see other options here]
4.875 x 6.875 Printed invitation & Printed, Die-cut* tag [we used C1 Classic White, see other options here]
For the printing, we used Black and Silver thermography (raised ink), and if you are having us print for you, you could also choose from flat printing (offset), full color (digital), letterpress (debossed), or even foil, instead of the thermography option if you prefer. Learn about printing services here and more about printing styles (thermo, letterpress, etc.) here.
The Envelopes and liners come in many color options as well.  For this invitation, we used the 5 x 7 E1 Classic White envelopes to match the printed invitation.
We can also special-order ribbon and lace for you, and even complete assembly, if needed.
*If we are die-cutting for you, it is done on a large commercial machine. However, you can also die-cut items yourself using a hand punch like this Craft Punch from Amazon.
Watch for more top trends each week, and let us know how we can help with your invitation needs!
Other TOP Trend Articles for 2013:
Adding Glitz and Bling to Your Invitation
Choosing Invitation Colors for Spring 2013