And the color of the year for 2013 is… GREEN!
Green!

As part of our "Top Trends" series, another one of the biggest trends this year is incorporating green. This spring, Pantone.com (the premier color authority for the design & fashion industry), announced the color of the year – Emerald Green.  Anticipating this trend, Envelopments released SIX new green colors of matte cardstock this year: Picholine, Mint, Jade, Vine, Lucky, and Hunter – so you'll be able to find a green that is perfect for you!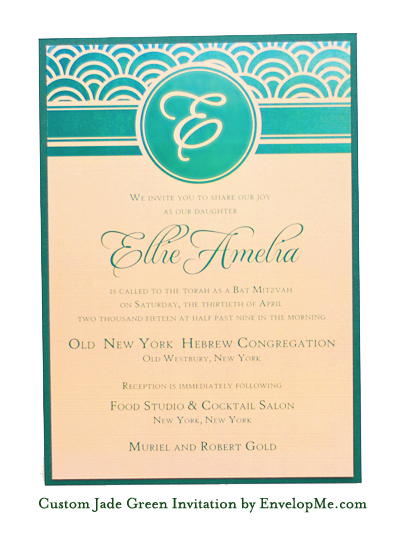 Bold and geometric patterns are also hot trends we are seeing a lot of this year, and can really make your invitations stand out. We created this custom invitation design featuring an original scallop pattern along the top to match the Jade cardstock backing layer.
And don't forget about the other green colors that are part of our extensive cardstock collection. There are some lighter matte shades including Casaba and Chartreuse – making eight matte options all together, as well as several shimmering metallics options.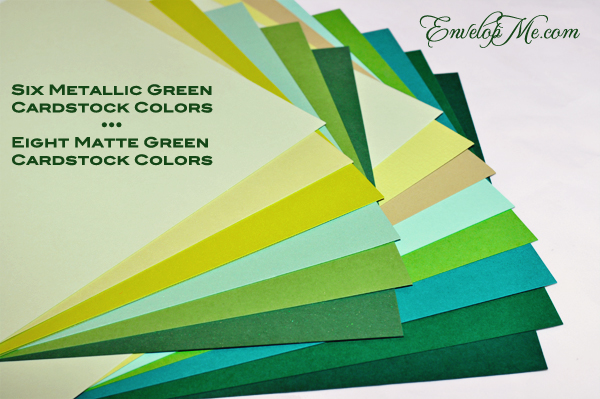 Here is a link where you can view the entire Envelopments collection of colors:
View by Color: https://www.envelopme.com/paper.html
View by Type of Stock (matte, metallic, letterpress, etc.): https://www.envelopme.com/paper-matte.html
Remember, we can help you design and print your invitation, or you can order blank stock to print on your own.  We also have templates and other resources here.  And of course, if you need help just give us a call at 1-888-MY-INVITE (1-866-694-6848).
Wishing you the best of luck with your invitation project this year!
***
Other TOP Trend Articles for 2013:
Adding Glitz and Bling to Your Invitation
Choosing Invitation Colors for Spring 2013
Rustic Mason Jar Invitation Theme