Top Trends – Featuring our Favorite Flourished Wedding Fonts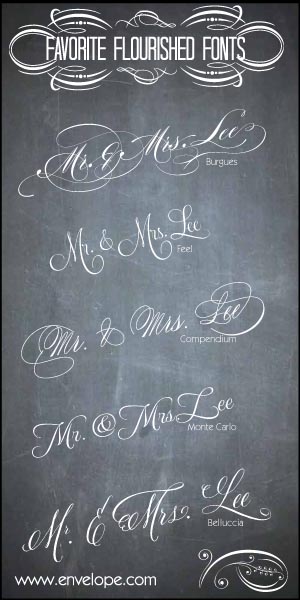 Your invitation sets the mood for your entire celebration, so whether it's for a wedding, birthday, Bar Mitzvah or Bat Mitzvah, anniversary or birth, the look of your invitation says as almost as much about the event as your wording does.
Calligraphy-style fonts with lots of swirls and flourishes are very popular this year, and there are so many gorgeous fonts to choose from.  Here are a few of our new favorites:
From the top (click on the name of the font below to go to a website to purchase) –
Burgues Script – Burgues Script was based on the penmanship of one of the best calligraphers of the 19th century. This font is one that has several variations for each letter and lots of swirls to give designers more control over the final look.  So very elegant!
Feel Script – Still very elegant, but quite a different look than Burgues, Feel Script is based on a a vintage typeface from the 1950's, with a lot more style. Love the swooping uppercase letters!
Compendium Script – This font was made by the same designer who designed Burgues and Feel above, still with lots of options and swirls. Alejandro Paul is one of my favorite font designers! According to his description, this font is a sequel/prequel to Burgues, but features the style of an earlier calligrapher.
Monte Carlo – This one also has lots of elegant swirl options and letter choices, but it's a bit more legible than many fancy scripts. This one is by another of my favorite designers, Rob Leuschke, who also designed some other favorites including Corinthia, Passions Conflict, Mea Culpa, and Bonheur Royal.
Belluccia – Designed by a calligrapher who created it for especially for  brides.  So lovely!  And check out the fun borders, swirls, and glyphs by the same designer available separately.
***
With so many options out there, sometimes it's hard to find the right fonts for you.  We have hundreds of fonts to choose from when we are designing your invitation for you, and we also have links to other websites where you can purchase these fonts (and we have links to several free fonts as well) if you want to get them for yourself to design your own invitation.  And speaking of Free Fonts – our next feature article will show some lovely free options.
MORE  2013 TOP TRENDS for Wedding Invitations:
And the Color of the Year for 2013 is… GREEN!
2013 Top Trend – Adding Glitz and Bling
Choosing Invitation Colors for Spring 2013
Rustic Mason Jar Invitation Theme
 You might also be interested in:
Choose Your Colors – Spring 2013