Top Trends – Favorite FREE Wedding Fonts
As promised, here's our next installment on the Fonts series.  These are a few of our favorite Fancy fonts that you can download as a trial for free… And who doesn't love FREE!  As a disclaimer, some of the free trial fonts may lacks some punctuation (see our tip at the end of this article). They also may have more limited license rights. If you need the additional symbols or are using the font outside the scope of the free license, you can purchase the full font.  We'll give you links for both so you can decide what works best for you.
There are many great free fonts available, but these are some really nice, all-purpose script fonts that we adore.  And we'll feature more in future posts.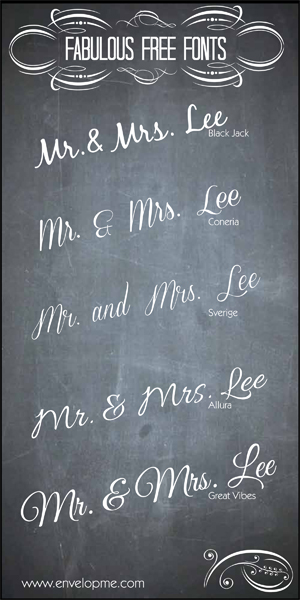 Black Jack (Free Version) or  (Full Version $10.00)
Coneria (Free Version) or  (Full Version $59.00) – There's also a free slanted version of this one!
Sverige (Free Version) or  (Full Version $59.00) – There is also a free swash version of this one!
Allura (Free Version) or  (Full Version from $25.00)
Great Vibes (Free Version) – No paid version, the free download is a full version.
(TIP – One little trick if you are trying to get by with a free version but need a certain symbol that is not included: pick a similar font you own and substitute the character you need. No one is going to notice if a period or dash is from a different font if it is similar in line weight and sized to coordinate with the font you are using it with. You can click on the paid version from the link above, then on the "glyphs" tab to see what the symbol ought to look like if you are trying to match it with another font.  This is tedious if type-setting a lot of punctuation, but these symbols & punctuation are often not needed for most of your wedding invitation ensemble, so this little cheat might just work for you… good luck!)
And remember, we carry a full line of blank invitation products in over 200 mix & match colors and patterns to create your DIY invitations. But if for whatever reason you are not wanting to DIY your invitations on your own, we also offer full-service design, professional printing, and expert assembly.
Just contact us for a free quote on printing and find out how we can help… or of course you can simply order the blank pieces and design your own DIY version to print on your own.  Either way, we are here for you.
Note: all photos in this article © EnvelopMe.com
MORE  2013 TOP TRENDS for Wedding Invitations:
Favorite Flourished Wedding Fonts
And the Color of the Year for 2013 is… GREEN!
2013 Top Trend – Adding Glitz and Bling
Choosing Invitation Colors for Spring 2013
Rustic Mason Jar Invitation Theme
 You might also be interested in:
Choose Your Colors – Spring 2013