Color of the Week – Spun Sugar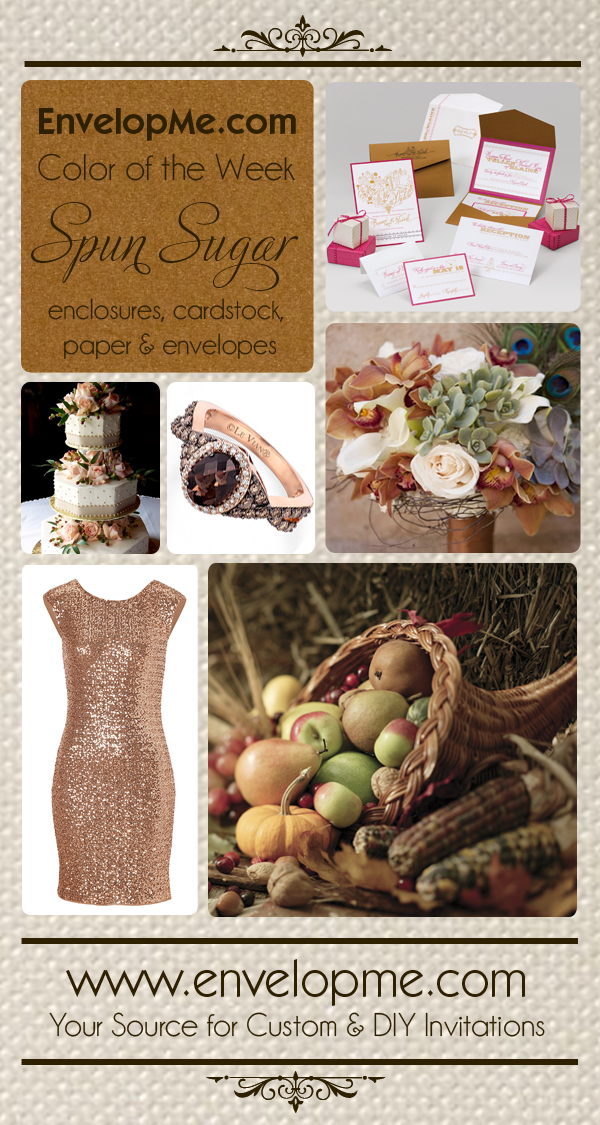 Happy Thanksgiving!
The featured color for this week is Spun Sugar, a decadent butter-toffee cardstock that brings a sparkle to your wedding. Perfect for the holiday season, the iridescent bronzy-gold metallic adds richness and depth to your invitation and all your day-of items such as place cards, menus, table numbers and programs.
We can help you mix and match styles and colors to custom-create a unique invitation that perfectly coordinates with your event.  Our services include complete custom design & printing (including full color printing, offset, thermography, foil and letterpress!) or blank enclosures, cardstocks, and envelopes for you to create your own DIY invitation if you prefer, in over 200 colors and patterns!
Here's a close-up look at the invitation featured above.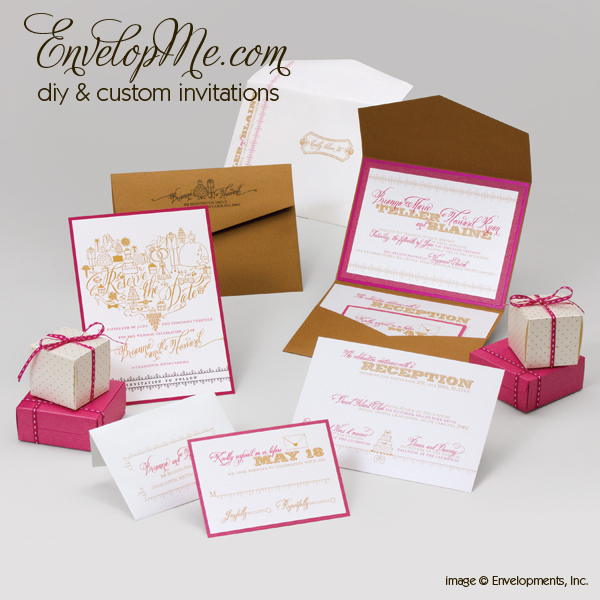 This invitation includes a 5 x 7 Signature Landscape Pocketfold in Spun Sugar, along with a layered invitation printed in full color on White Micah cardstock and double-backed with Boa and Fashionista. The corresponding outer envelopes are printed in full color on White Micah.  The enclosures are also printed on White Micah with the RSVP card featuring a Boa backing layer and a White Micah envelope.
The Save-the-Date is printed on White Micah with a Boa backing and features a Spun Sugar envelope. Favor containers are shown in  Fashionista (Tarte) and Raw Silk Ecru-SWI73 (Bon Bon).
Resources for this invitation board:
Invitations – www.envelopme.com (image © Envelopments, Inc.)
Cake – http://www.sugarshowcase.com/cakes/wedding-cakes/all/all?page=7
Ring – http://www.kay.com/en/kaystore/diamonds—gemstones/chocolate-quartz-ring–5-8-ct-tw-diamonds–14k-gold/100020/100020.100023.100055
Bouquet – http://www.todomundocasa.com/2013_05_01_archive.html
Dress – http://www.stylebop.com/product_details.php?id=489973&campaign=affiliate/linkshare/usa/&utm_source=affiliate&utm_medium=linkshare&utm_campaign=adsus&siteID=Hy3bqNL2jtQ-az5OeOk_CzU4EGqZpnGrfQ
Cornucopia – http://www.raszart.com/2011/11/happy-thanksgiving.html
* A note on our inspiration board photography – other than the wedding invitations which we offer here on the website, the items in each board were selected because we thought they were lovely together with our featured color of the week. We are not affiliated with nor do we endorse any of the non-invitation items above, but have tried to provide appropriate credit for each image used. If we have used your image and have not credited it properly, or you wish us to no longer feature it, please contact us directly and we will update or correct it immediately.