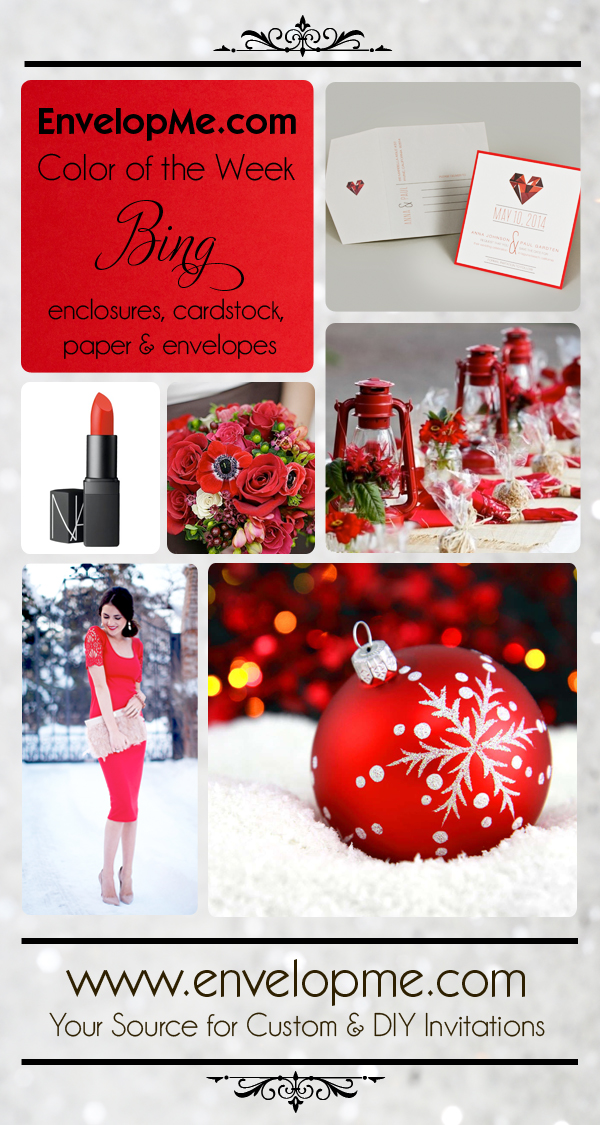 Nothing screams "Christmas!" quite like a bright shade of red. The holidays are in full swing, so we thought this would be an appropriate color of the week to kick of December! This fun and cheery red can be paired with winter white, a classic ivory, or even a rustic kraft – so when it comes to choosing a printed stock for your invitations, the options are endless. And although I'm fairly certain the name "Bing" was in reference to the cherry, well…I prefer to think of Bing Crosby singing White Christmas.
We can help you mix and match styles and colors to custom-create a unique invitation that perfectly coordinates with your event.  Our services include complete custom design & printing (including full color printing, offset, thermography, foil and letterpress!) or blank enclosures, cardstocks, and envelopes for you to create your own DIY invitation if you prefer, in over 200 colors and patterns!
Here's a close-up look at the Save-the-Date card featured above: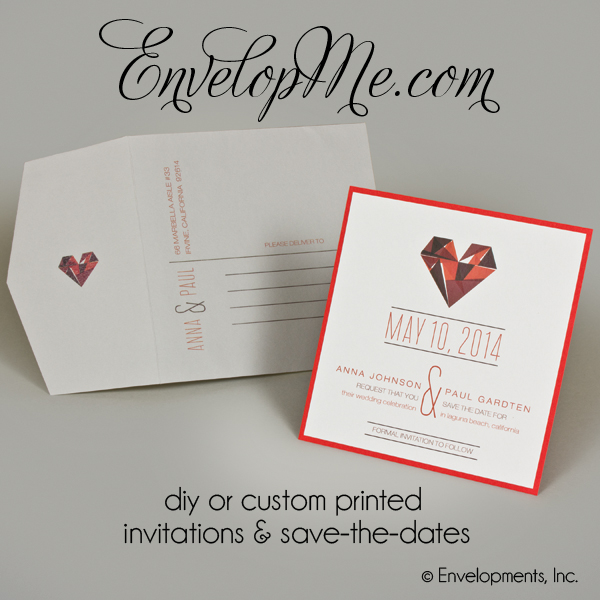 This save-the-date is just a simple layered card, but the design elements are one-of-a-kind, so this is a perfect option if you are looking for something original yet budget-friendly. A backing layer of Bing cardstock really makes the main invitation, printed on London Fog, stand out and adds a fun pop of color that corresponds to the text. The envelope is Turtle Dove – and how fun is the printing on the front?!
Here's the matching wedding invitation, also featuring the Red, Gray & Black motif in a pocketfold: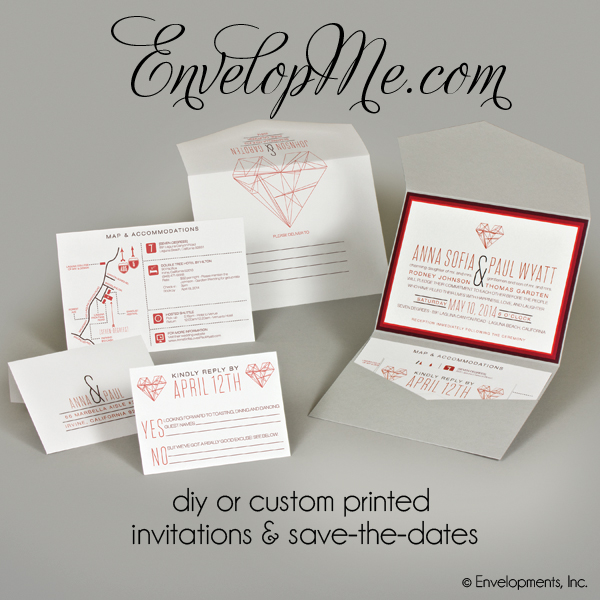 The wedding invitation continues the "architectural-style" heart theme (no cutesy heart here!) in a Turtle Dove Signature Landscape Pocketfold (5 x 7 size) with backing layers in Bing, Fig, & Brick. The invitation and enclosures were all printed on London Fog, in red and black ink. The outer mailing envelope is also printed on London Fog, with fill-in-the-blank lines to the addressee. LOVE it!
We'd LOVE to help you customize this unique invitation for your wedding.
Resources for this invitation board:
Invitations – www.envelopme.com (image © Envelopments, Inc.)
Lipstick – http://www.narscosmetics.com/color/lips/lipstick/cinematic-lipstick/short-circuit
Dress – http://www.thepinkpeonies.com/2013/02/pink-peonies-asos.html
Bridal Bouquet –  http://theknot.ninemsn.com.au/wedding-planning/wedding-planning-wedding-planning/essential-tips/wedding-theme-red-green/attachment/wedding-theme-red-bridal-bouquet
Tablescape –  http://www.stylemepretty.com/gallery/picture/182000/ and photo by http://www.hannahphoto.com/
Red Christmas Ornament – http://www.zingerbug.com/background.php?MyFile=red_christmas_ornament_with_snow_and_lights.php&ID=C770.php