Oz – Invitation Inspiration Color of the Week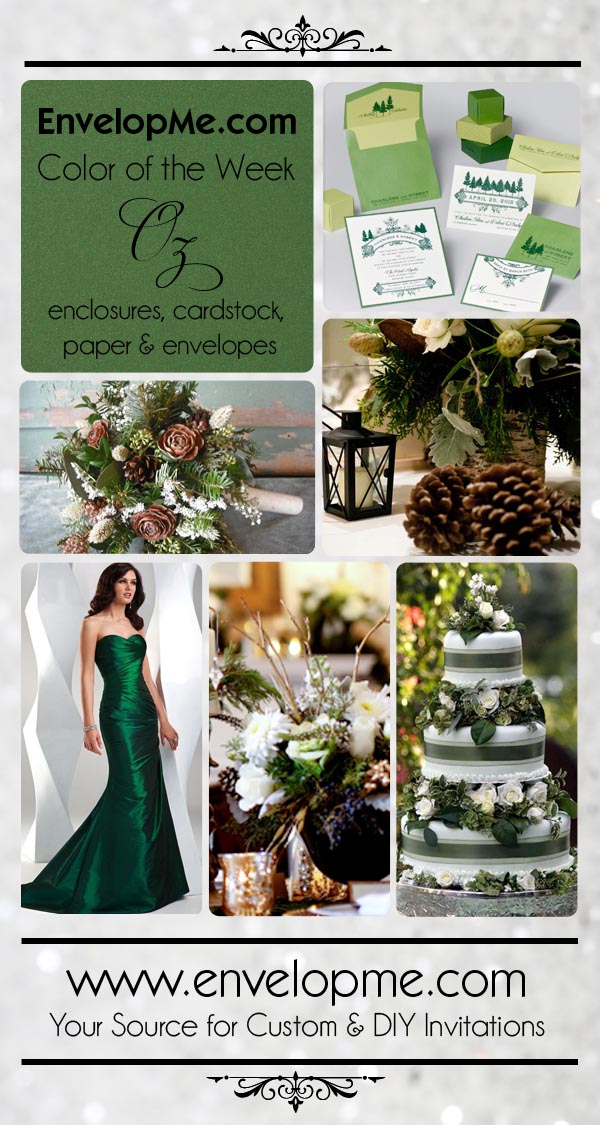 Can you almost smell the scent of Pine? The inspiration color for this week is Oz – a deep forest green metallic cardstock.  Gorgeous for anytime of year, but especially during the holiday season, this elegant stock pairs equally well with white or cream, bronze, gold, or even a splash of red if you want to go for traditional Christmas Colors. So get those boughs of pine ready, as you prepare for the perfect winter wedding!
We can help you mix and match styles and colors to custom-create a unique invitation that perfectly coordinates with your event.  Our services include complete custom design & printing (including full color printing, offset, thermography, foil and letterpress!) or blank enclosures, cardstocks, and envelopes for you to create your own DIY invitation if you prefer, in over 200 colors and patterns!
Here's a close-up of the invite: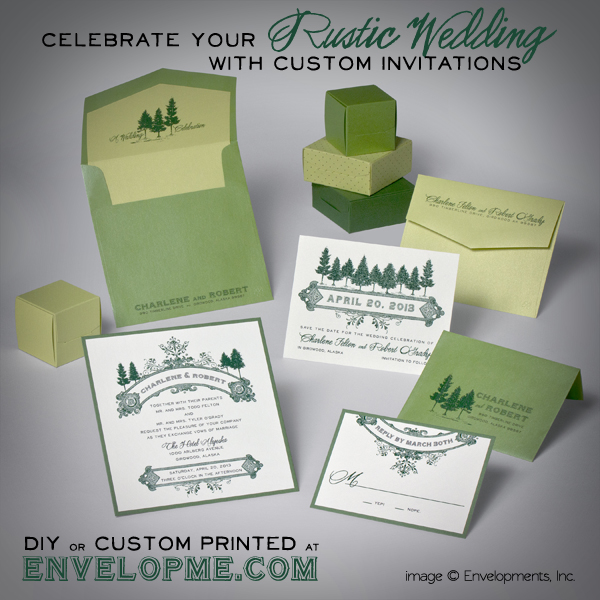 We featured this particular invitation in a previous post, so if you'd like the exact "recipe" for this one, please see it at our "Rustic Winter Wedding" post here.
We'd LOVE to help you customize this deep green invitation for your wedding.
Resources for this invitation board:
Invitations – www.envelopme.com (image © Envelopments, Inc.)
Handmade Birch Bridal Bouquet – http://www.etsy.com/listing/94006398/bridal-bouquet-made-with-fresh
Emerald Sleeveless Dress – http://www.cynthia-styling.com/goods-1295-Red+pleated+caught+up+full-length+taffeta+ballgown+evening+prom+quinceanera+ball+dress+P1505.html
Winter Tablescape with Pine Cones and Lantern –  http://weddingvibe.com/blog/2012/01/real-wedding-amanda-david-sterling-va/
Winter Centerpiece with Bare Branches – http://www.elizabethannedesigns.com/blog/2009/12/16/winter-holiday-wedding-inspiration/
Deep Forest Green Wedding Cake – http://tanarievents.wordpress.com/category/wedding-decor/ and http://www.absolutelyfabulous.ca/full-planning-service.aspx
* A note on our inspiration board photography – other than the wedding invitations which we offer here on the website, the items in each board were selected because we thought they were lovely together with our featured color of the week. We are not affiliated with nor do we endorse any of the non-invitation items above, but have tried to provide appropriate credit for each image used. If we have used your image and have not credited it properly, or you wish us to no longer feature it, please contact us directly and we will update or correct it immediately.