Color of the Week – Bullion & Ginger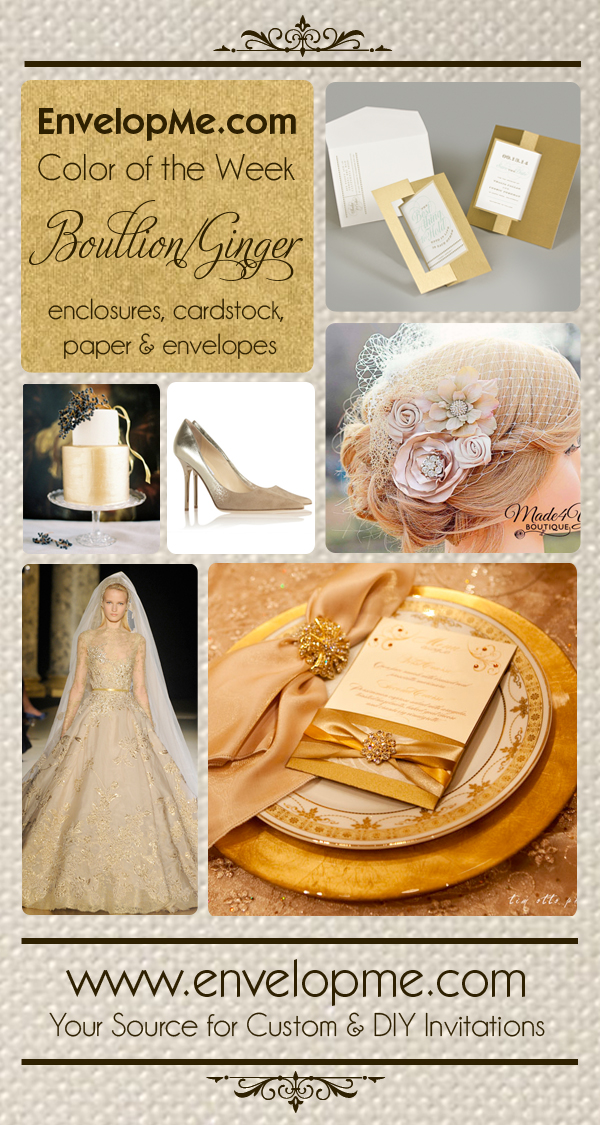 Glitzy and Gorgeous! The inspiration color for this week is Bullion/Ginger, a duplex cardstock featuring a brilliant and shimmery metallic gold cardstock on one side and a subtler matte gold on the other.  Perfect when the occasion needs a bit of sparkle – or a lot!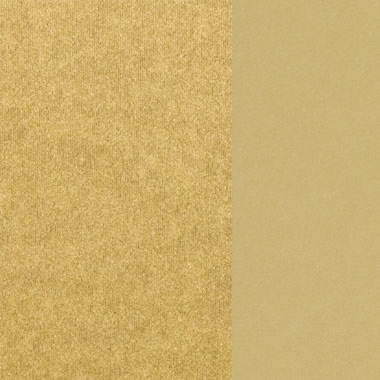 We can help you mix and match styles and colors to custom-create a unique invitation that perfectly coordinates with your event.  Our services include complete custom design & printing (including full color printing, offset, thermography, foil and letterpress!) or blank enclosures, cardstocks, and envelopes for you to create your own DIY invitation if you prefer, in over 200 colors and patterns!
Here's a close-up of the gold Save the Date card: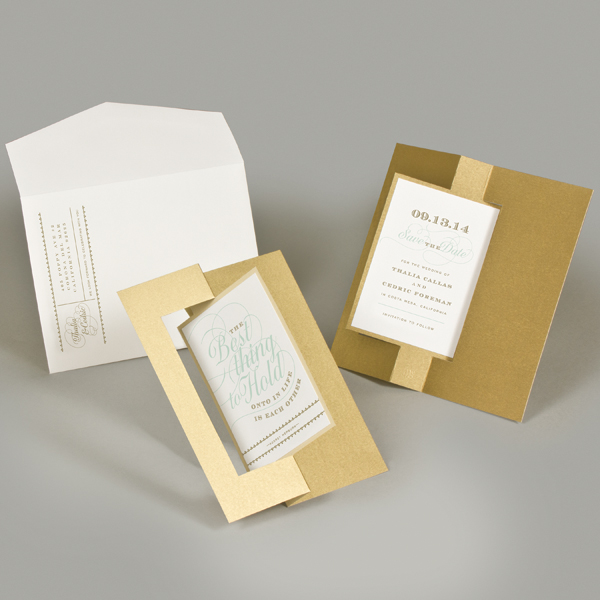 This save the date card features 2-color printing PC100 Ecru cardstock, mounted on a Bullion/Ginger 5 x 7 Landscape Twist Card.
We'd LOVE to help you customize this gorgeous gold save the date invitation for your wedding.
Resources for this invitation board:
Save the dates/Invitations – www.envelopme.com (image © Envelopments, Inc.)
Champagne Birdcage Veil – http://www.etsy.com/listing/102398183/champagne-birdcage-veil-gold-and?utm_source=google&utm_medium=product_listing_promoted&utm_campaign=weddings_low&gclid=CKStodWbqbsCFa10QgodJX0AIA
Ellie Saab High Fashion Gold Wedding Dress – http://www.brides.com/blogs/aisle-say/2012/08/elie-saab-couture-dress-fall-2012.html
Jimmy Choo Gold Pumps – http://www.net-a-porter.com/product/362839
Guilded Gold Tablescape – http://weddingbelltalk.com/2012/08/16/3242/
Metallic Gold Wedding Cake – http://www.bridepop.com/everything-else/20-unique-and-fabulous-wedding-cakes/attachment/mississippi-wedding-cake-metallic-modern-unique-gold-white-modern/
* A note on our inspiration board photography – other than the wedding invitations which we offer here on the website, the items in each board were selected because we thought they were lovely together with our featured color of the week. We are not affiliated with nor do we endorse any of the non-invitation items above, but have tried to provide appropriate credit for each image used. If we have used your image and have not credited it properly, or you wish us to no longer feature it, please contact us directly and we will update or correct it immediately.