Kristen & Jarad's Pocket Fold Wedding Invitations – Elegantly Understated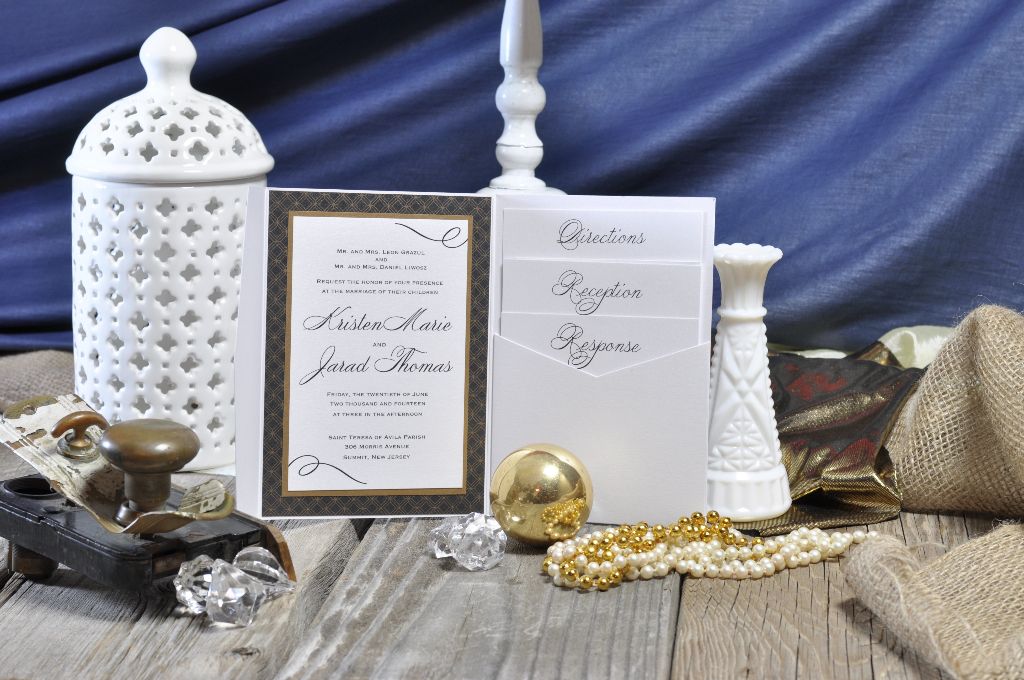 Kristen & Jarad's lovely invitations feature a white on white theme, with just a pop of black and gold behind the invitation.  As shown here, both the pocketfold and the printed cards are on metallic First Snow, in black thermography (raised ink).  The custom design features Copperplate straight font, and the gorgeous Compendium for the swirl script, and was created by a friend of the bride.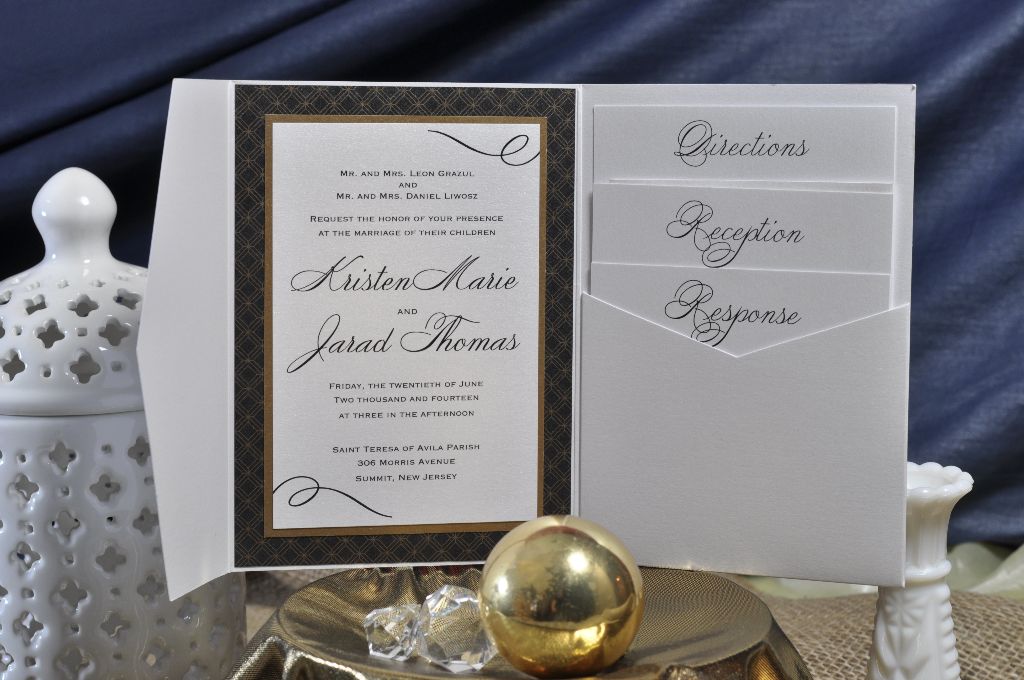 The invitation is mounted in a 5 x 7 Signature Side Pocket Fold (c3 pricepoint – First Snow), with a black and gold patterned cardstock backing (Black Diamond LIN78, cut to 5.125 x 7.125, C5 pricepoint), a layer of Antique Gold cardstock (C3 pricepoint, custom-cut to 4.5 x 6.5) and then the printed invitation is 4.25 x 7.25.  In the pocket, the cards are sized as 4.75 x 7, 4.75 x 6, and 4.75 x 5 (with the smallest being a response postcard.)  Don't forget the envelope… although not pictured, we'd recommend a First Snow envelope (E3 pricepoint) with an Antique Gold liner (L3 pricepoint) to coordinate with this set.
You can order flat printing for the printed cards for your custom invitation suite here, with either your own design files or we can design for you. Or for thermography, request a custom quote, and we'll be happy to assist you as well. We even offer assembly services & envelope addressing, if you want us to handle that part.
Or you can print your cards on your own, and just order the blank invitation items to create your own ensemble.
Thanks, Kristen & Jarad, for letting us help with your lovely invitations.
And, let us know how we can help YOU create gorgeous invitations for your next event. However we can assist, we're here to help!