Category Archives:
Traditional
Jeanette & Jimmy came to us with a beautiful "Double-Happy" motif that they wanted to incorporate into their custom wedding invitations. And we were happy to help! These gorgeous invitations were printed in Black thermography on C1 Reef (matte) Cardstock and C3 24KT (metallic) cardstock, and all packed in a 5 x 5 Envelopments Signature […]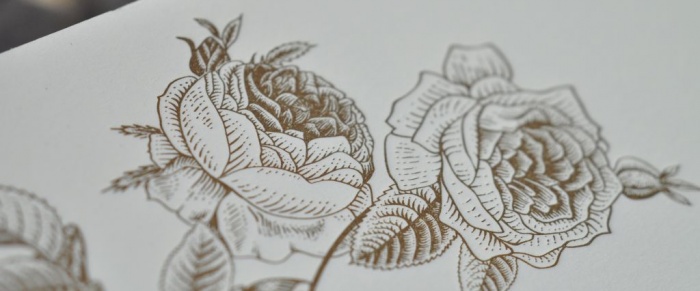 Vintage roses adorn this romantic letterpress invitation – pressed with a deep, rich gold ink. We are in love with letterpress – the deep impressions in the soft, cottony paper; the luxurious feel of the heavy stock, and the tradition behind it all. And this particular invitation has an extra personal touch.  The mother-of-the bride […]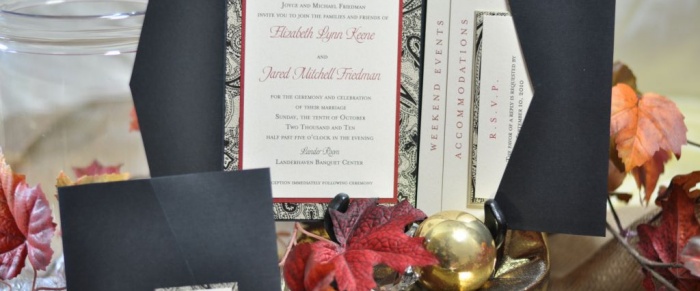 These elegant black, cream & red invitations are perfect for a fall or winter wedding! Featuring a 5 x 7 landscape pocketfold in Black Linen, with a paisley patterned backing layer (EDIT: this patterned stock is discontinued, but there are lots of other gorgeous black & white patterns here) and a second backing layer in […]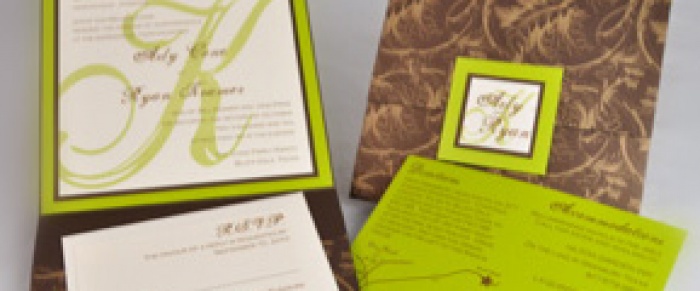 By Paula Smith How do you incorporate such a traditional element as a Monogram while keeping your invitation modern? Choose a bright fun color and pair it with a casual, elegant font. That is exactly what you find in Arly and Ryan's wedding invitations.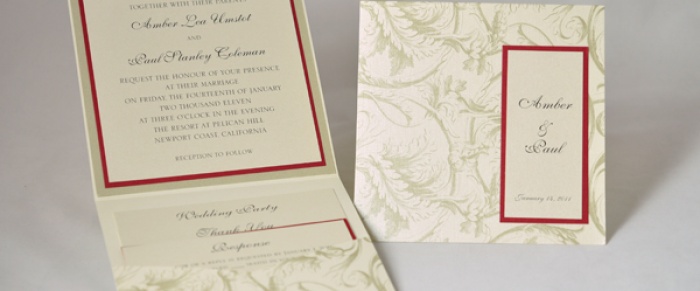 We're very proud to have been the invitation designers for Amber & Paul, who were recently featured in Style Unveiled.  The patterned 5 x 5 pocketfold invitations elegantly set the mood for their wedding celebration. Check out the gorgeous photos of their wedding on the Style Unveiled website. Here's a photo of the finished invitation […]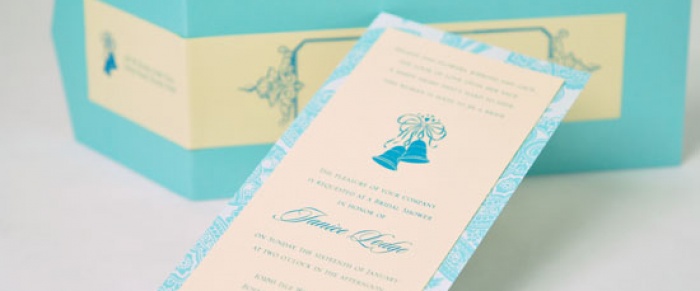 By Tayva Bloomer Something old, something new, something borrowed, and something…. wondering how to incorporate a bit of blue into your wedding? Why not make the color a theme at your bridal shower?!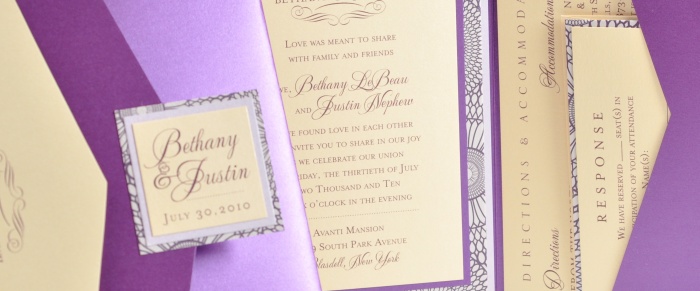 By Tayva Bloomer For the first "Friday Feature" article, I wanted to spotlight an invitation that was created for LeAnn. LeAnn has ordered from us on various occasions and wanted to design something special for a close relative's summer wedding in New York. The result? See for yourself… 3 Things I Love: 1. Color In […]