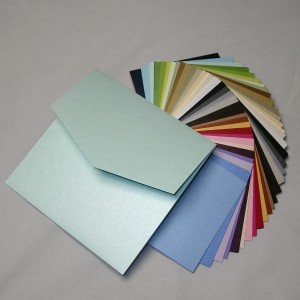 Creating your custom pocket invitations can be a little overwhelming, whether you're wanting to have them custom-designed and professionally printed, or you just want to order wedding invitation supplies to make your own invitations.
We have a lot of resources on our site to help you get started. Below are some links, depending on what you are trying to accomplish. To familiarize yourself with our products, here's an overview of what we offer:
See Styles and Sizes of Invitation Pockets, Folded Enclosures, Cardstock & Envelopes  (We have over 20 different shapes and sizes of invitation pockets to choose from, plus plenty of other wedding invitation supplies (or invitations for Bar Mitzvah/Bat Mitzvah, showers, baby announcements, business events, etc.)
See over 200+ colors of Cardstock options for Wedding Invitation Pockets, Enclosures & Envelopes – You can mix and match styles, colors and layers to create exactly the look you want.
How do I make my own pocket wedding invitations? Click here for our Pocket Invitation primer, Pocketfolds 101, which shows you the basic components of a pocket invitation. Then, click on the links below for ideas, shopping and more great helps. And, of course, we have real, live people here to help you too!
I want to:
—IDEAS—
Find invitation ideas for Wedding Invitations
Find invitation ideas for Bar Mitzvahs & Bat Mitvahs
Find invitation ideas for Births and Birthdays
Find ideas for Holiday Greeting Cards
—SHOP—
Order a sample of our pocket wedding invitation supplies
Order blank pocket wedding invitation supplies to make my own pocket invitations
Order or get a quote on custom printed wedding, bar/bat/bnai mitzvah or business invitations (or any kind, really)
See available stock colors of all our wedding invitation supplies
See styles, sizes and pricing of blank wedding invitation supplies you can print yourself
—HOW TO—
See examples and recipes of printed pocketfold invitations and matching wedding programs
See tips, tricks and how-to's on the Blog: Envelopme.com University
Download free Pocket Wedding Invitation templates to print your own wedding invitations at home
Watch How-To Videos on how to make your own invitations
Learn how to assemble my pocketfold invitations
—HELP—
Speak to an invitation consultant via phone, chat or e-mail.