Tag Archives:
pocketfolds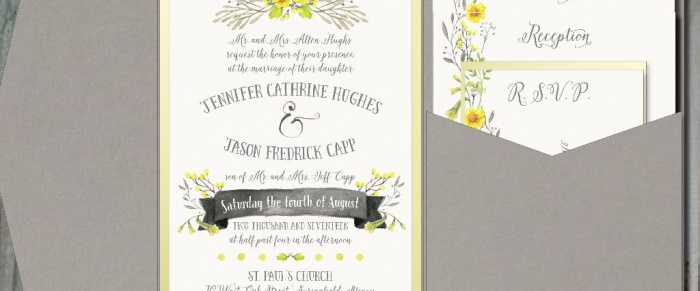 As summer is approaching quickly, we're super excited with this sunshine-esque Envelopments® Pocket Fold® invitation.  Bright but soft, warm & inviting, these delicate watercolored golden flowers bring this invitation to life. Featuring the gorgeous yellow watercolor flowers of Lisa Glanz, and gorgeous typography (Isabella for the script), these invitations give a light, airy quality to your […]
Jeanette & Jimmy came to us with a beautiful "Double-Happy" motif that they wanted to incorporate into their custom wedding invitations. And we were happy to help! These gorgeous invitations were printed in Black thermography on C1 Reef (matte) Cardstock and C3 24KT (metallic) cardstock, and all packed in a 5 x 5 Envelopments Signature […]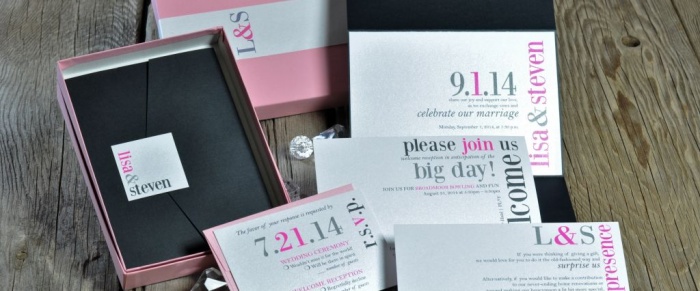 We had so much fun working with Lisa and Steven on these gorgeous modern boxed wedding invitations. The striking pink with the gray and black print are set in a clean font using different sizes and caps to create a distinct look for this wedding ensemble. The invitation includes a 5 x 7 x 1 […]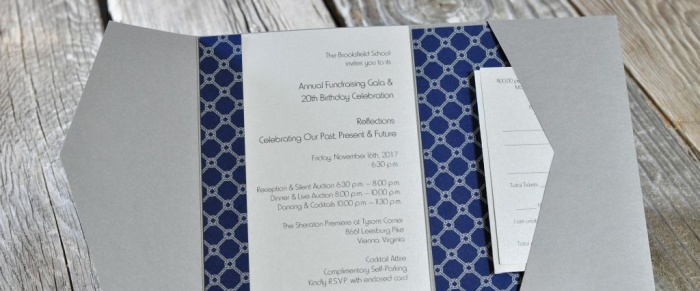 Non-Profit organizations count on generous donors and host amazing events to find them. To encourage those attendees to give generous donations, you need a gorgeous invitation! Here's a pocket fold invitation that features Silver and Navy, done in a simple but elegant fashion. The main invitation and RSVP cards are printed in black thermography (raised […]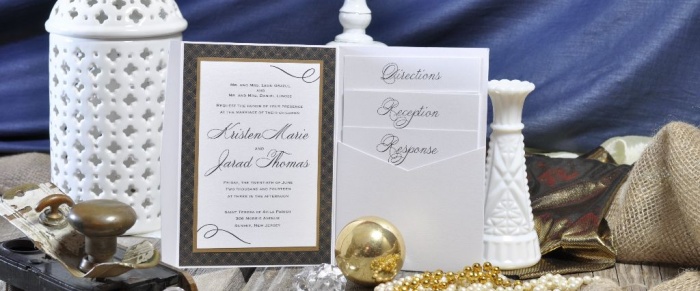 Kristen & Jarad's lovely invitations feature a white on white theme, with just a pop of black and gold behind the invitation.  As shown here, both the pocketfold and the printed cards are on metallic First Snow, in black thermography (raised ink).  The custom design features Copperplate straight font, and the gorgeous Compendium for the […]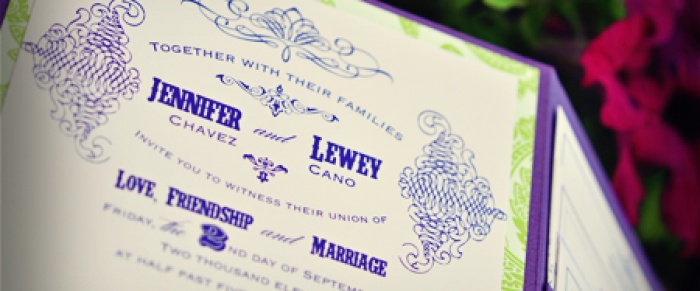 We are excited to bring some new design tools to our website – FREE Downloadable templates. We have been working hard to put these new templates together and hope you find them helpful. We have templates for the casual user to print at home (MS Word) and for the professional designer for commercial printing (Adobe Illustrator).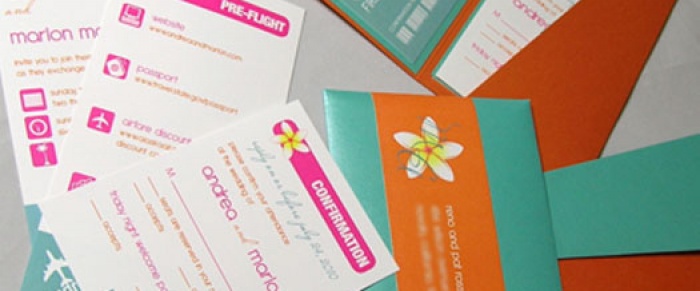 By Jeanie Thatcher Imagine opening the mailbox and seeing a stack of white envelopes that your mind automatically assumes are bills, but amongst the sea of white you spot a bright blue and orange envelope. Which envelope would you open first? Of course this envelope would not be tossed on the table to sort through […]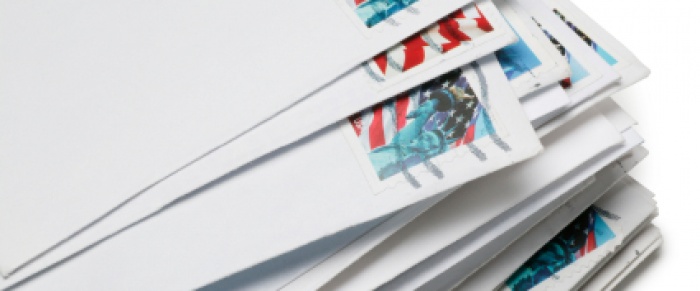 Because we get so many questions about mailing invitations, we decided to do a post to help answer a few of your postal questions. Postage rates for your invitations are determined by weight, size, and "nonmachinable characteristics"so we'll discuss each of these one at a time. Weight – a regular first class letter rate 1 […]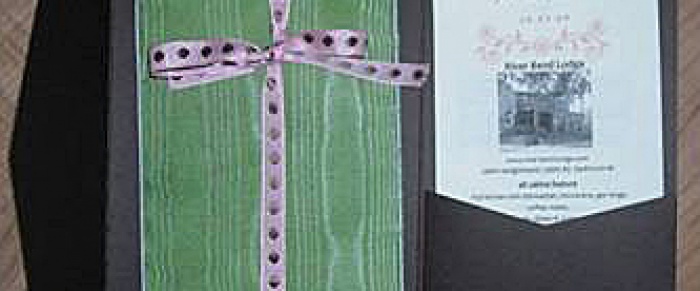 This week's feature invitation was submitted by Jes.  We loved her creative use of our Envelopments® Pocketfolds to make an invitation that was uniquely her own. Here's what I did.  My weekend celebration wedding invitations fit wonderfully in your fold over envelopes [AKA: Pocketfolds®].  I had the perfect space to include details and directions. Thanks! […]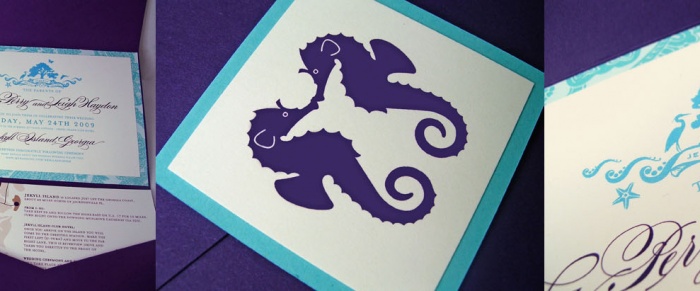 Where Sophistication meets Whimsy… Our Featured Invitation this week was designed by graphic designer-Bride, Erika Perry. As a designer, Erika had a strong sense of the style she was looking for, but after visiting numerous invitation websites, she was frustrated with trying to find a pre-designed invitation that matched her vision. Finally, she decided to […]